01/19/2023
NETRIS Pharma led consortium awarded €1.2 million Eurostar grant to explore netrin-1 targeted therapeutics
Reading : 5 min
ACTaNet project will focus on chronic bone pain in arthritis and cancer initially leveraging anti-netrin-1 antibody NP137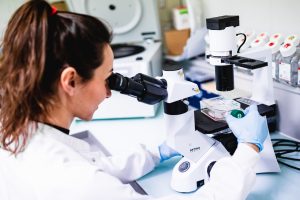 January 19, 2023
Lyon, Copenhagen and Stockholm — NETRIS Pharma, a clinical-stage private biopharmaceutical company developing a new class of drugs based on dependence receptor biology, today announced that a consortium of leading European academic institutions and biotech companies have been awarded a €1.2 million Eurostar grant for ACTaNet. The ACTaNet project aims to generate preclinical proof-of-concept (PoC) for NP137, NETRIS Pharma's lead product, as a high-potential drug candidate for the treatment of arthritis and metastatic bone cancer related chronic pain. NP137 is an antibody therapeutic that targets netrin-1, a protein ligand over-expressed in many cancers.
The consortium gathers unique experience and knowledge in the field of pain-related indications from the Karolinska Institutet in Sweden, University of Copenhagen in Denmark, CRCL in France as well as biotechnology expertise in the field of biomarkers (Nordic Bioscience) and preclinical and clinical development of drugs (NETRIS Pharma).
ACTaNet aims to demonstrate the efficacy of NP137 against chronic pain caused by bone-associated cancer and arthritis in preclinical models and subsequently advance the drug candidate towards the Investigational New Drug (IND) application. In addition, the project aims to validate relevant non-invasive translational biomarkers, such as collagen fragments, that may be used as a tool for better understanding of treating chronic pain, as well as to predict and monitor the efficacy of NP137.
« We are very pleased to be part of this collaboration. Pain is a common and debilitation symptom of joint and bone disorders and an important unmet medical need » said said Anne-Marie Heegaard, Associate Professor at the University of Copenhagen.
« The members of the consortium are uniquely positioned with complementary expertise. Working together will make a difference and maximize the chances of moving NP137 towards clinical development in these indications » added Camilla Svensson, Professor at the Karolinska Institutet.
The Project includes a special attention to biomarkers as noted by Nicholas Willumsen, Director, Oncology, at Nordic Bioscience: « Non-invasive biomarkers validated in a chronic pain setting can help to objectively facilitate an accurate diagnosis and evaluate efficacy of intervention. In the ActaNet project we will look for and evaluate biomarkers related to netrin-1 and their role in pain ».
« Netrin-1 has been initially identified as a neuronal guidance cue during embryogenesis and we are very excited about the recent discoveries on the role of netrin-1 in pain conduction, and on the possibility of our lead asset, NP137, to inhibit pain » said Patrick Mehlen, CEO of NETRIS Pharma.
« This €1.2 million Eurostar grant obtained by NETRIS Pharma and the members of the consortium is validation of the growing interest of targeting netrin-1 in inflammatory conditions » added Christophe Guichard, CFO of NETRIS Pharma.
About Karolinska Institutet
Karolinska Institutet is one of the world's leading medical universities. Our vision is to advance knowledge about life and strive towards better health for all. Karolinska Institutet accounts for the single largest share of all academic medical research conducted in Sweden and offers the country's broadest range of education in medicine and health sciences. The Nobel Assembly at Karolinska Institutet selects the Nobel laureates in Physiology or Medicine.
About University of Copenhagen
Driven by intellectual creativity and critical thinking since 1479, researchers and students at the University of Copenhagen have expanded horizons and contributed to moving the world forward. With its 5,000 researchers and 37,500 students, the University boasts an international research and study environment and is highly ranked on the leading ranking lists of the world's best universities.
About CRCL
The Cancer Research Center of Lyon (CRCL) (FR) is the largest research cancer center in France and a research structure that aims to facilitate the transfer of knowledge from fundamental cancer research to clinical applications in oncology. CRCL researchers and clinicians have focused on determinants that allow pre-cancerous and cancer cells to overcome onco-suppressive barriers with the aim of developing innovative therapeutic approaches.
About NETRIS Pharma
NETRIS Pharma, a clinical-stage company designs and develops anti-cancer therapeutic molecules, particularly monoclonal antibodies, to block the interaction between dependence receptors and their ligands. NETRIS Pharma, based in Lyon, is the world most advanced biopharmaceutical company targeting netrin-1. NP137 is a humanized monoclonal antibody of isotype IgG1 directed against netrin-1, is currently assessed in multiple phase 1 and 2 clinical trials.  Further information can be found at:
About Nordic Bioscience
Nordic Bioscience is a world-leading extracellular matrix biomarker expert headquartered in Herlev, Denmark. Nordic Bioscience is engaged in biomarker development using a unique neoepitope technology to measure pathologically generated tissue turnover fragments in a blood sample. The combined expertise in biomarker development and preclinical and clinical research enables Nordic Bioscience to provide fast and objective decision-making for compound selection and development in clinical trials as well as for providing value for patients in a diagnostic setting.
About Chronic Pain
Chronic pain is a long-lasting, debilitating affliction affecting over 100 million people in Europe alone. Patients suffering from arthritis and cancer metastasized in bones report chronic pain long after the disease is in remission (approximately 24.9 million patients combined). Long-term treatment with available pain-relieving drugs frequently are associated with limited efficacy and problematic side effects, including addiction. There is as a result an imminent need for an effective and safe treatment for chronic pain.
About Eurostar
The European Partnership on Innovative SMEs / Eurostars is a funding instrument that supports innovative SMEs and project partners (large companies, universities, research and other types of organisations) by funding international collaborative R&D and innovation projects.
Contacts:
Karolinska Institutet (KI)
Camilla SVENSSON, Professor
University Copenhagen
Anne-Marie HEEGAARD, Associate Professor
CRCL
Pierre CHAUMONT, head of communication,
pierre.chaumont@lyon.unicancer.fr
NETRIS Pharma
Christophe GUICHARD, CFO and IR
christopheguichard@netrispharma.com
Mike SINCLAIR, Halsin Partners (for NETRIS Pharma)
Nordic Bioscience
Nicholas WILLUMSEN, Director, Oncology